Relaa Racing and Matias Salonen Runner-Ups in Porsche Sprint Challenge NEZ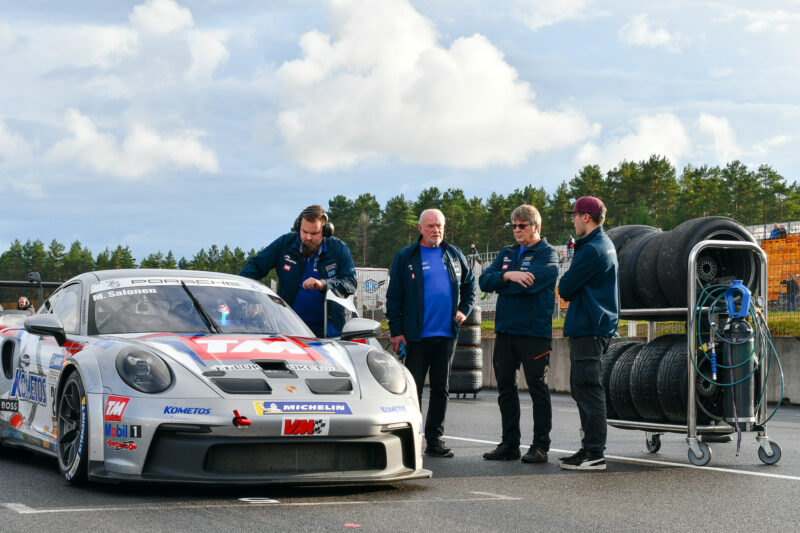 Relaa Racing's young talent, Matias Salonen, secures second place in the Porsche Sprint Challenge NEZ series. The 20-year-old driver narrowly missed the championship by just two points. Relaa Racing also clinches the silver medal in the team standings.
Finnish Porsche team Relaa Racing challenged for both the drivers' and teams' championships in the Porsche Sprint Challenge NEZ series season finale. 20-year-old Matias Salonen, a rising star in Relaa's junior program, started the event in second place, trailing the leader by only 13 points.
In Friday's qualifying sessions, Salonen put his Porsche to the front row, securing the second spot on the grid. In the opening race on Saturday, Salonen made a brilliant start, took the lead and never looked back. The young talent from Lempäälä controlled the race, finishing over four seconds ahead of his competitors. Earning a maximum of 25 points, Salonen narrowed the gap to just five points before the final race of the season.
Starting P4 for the season finale, Salonen suffered a bad start, dropping the Finn down to sixth. However, this marked the beginning of a remarkable comeback. By the midway point of the race, Salonen had climbed up to fourth. After a determined effort, Salonen took his place on the podium with just five minutes left on the clock. Although Salonen was putting immense pressure on the second place, position needed for the championship, the time ran out, leaving the young talent just two points shy of the championship.
"It's a bittersweet feeling. We had the pace to win, but we started the second race too cautiously, and then we had to catch up. It's a bit frustrating when you realize where the mistakes have come throughout the season. We'll have to settle for silver this season," Salonen shared his post-race emotions.
"The season had its ups and downs, but when we've been competitive, we've fought for the victory. Overall, it was a good season, and those who have been following the championship at home and abroad have surely taken note of the performances we've put in throughout the season," Salonen summarized.
In the 2023 season with Salonen and Relaa Racing, a total of three victories and two new track records were scored.
"A huge thank you to Relaa for their unwavering support throughout the season. Thanks also to my partners for their support throughout the season and during various stages of my career so far," Salonen extended his gratitude.
Unofficial Porsche Sprint Challenge NEZ series points after 6/6 rounds:
Valters Zviedris 208 LVA
Matias Salonen 206 FIN
Henri Tuomaala 185 FIN
Unofficial team standings after 6/6 rounds:
39 Racing Team 249
Relaa Racing 239
Capkausko Autosportas 208
FRC Alastaro Race 1 results:
Matias Salonen 12 laps FIN
Henri Tuomaala +4.329 FIN
Valters Zviedris +7.163 LVA
FRC Alastaro Race 2 results:
Robertas Kupcikas 12 laps LTU
Henri Tuomaala +0.876 FIN
Matias Salonen +1.871 FIN